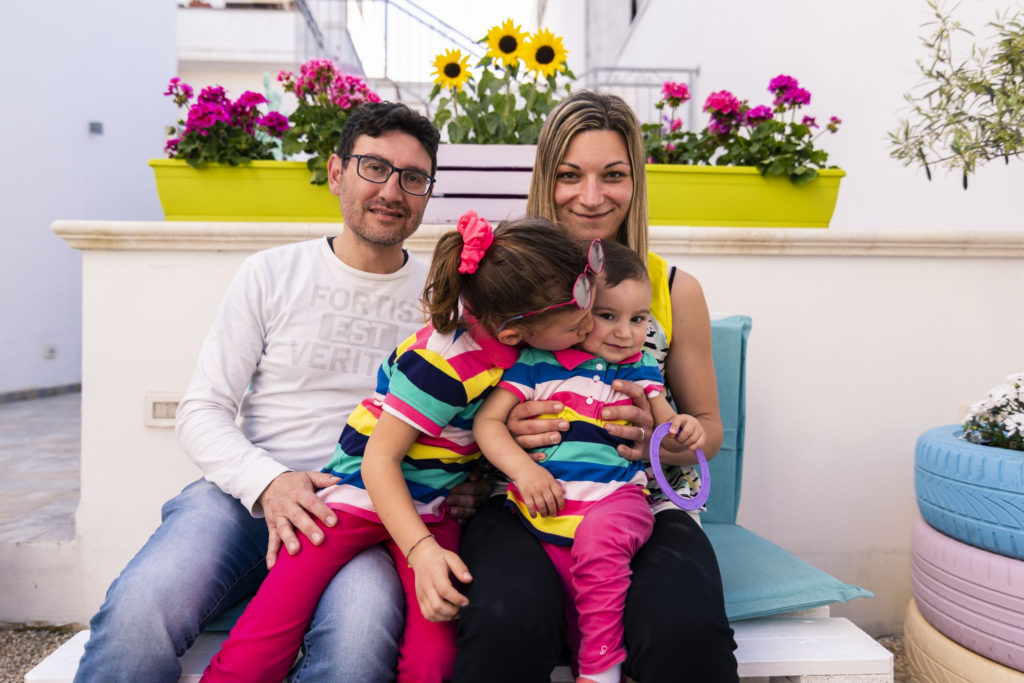 We are Angela, Anita, Ania and Antonio (called Filo), a happy Salentine family. What do we have in common? We all love baby-friendly travels.
Anita is 7 years old and ever since she had a few months she started to follow us on our travels around the world. She loves skating and swimming and goes around Italy for competitions.
Ania came a few years later. She loves dancing.
Angela is an English teacher at the University of Salento, works as a translator for a US company and is the director of the B&B. She is a volleyball player.
Antonio was a volleyball coach but now he is the babysitter in the evening. He is a passionate ICT researcher at one of the biggest Italian System Integrators, where he deals with European projects on Smart Cities.
The bed and breakfast Casa di Anita (conceived when Ania was not yet scheduled, but you can also see her name in the logo) is the result of our experience as travelers.
Holiday Home in Salento
We have three spacious and elegant rooms with star-vaulted ceilings. Each room has been carefully designed and furnished, and all equipped with air conditioning, wi-fi, flat-screen TV, private bathroom, full bath linens, and toiletries.
Our Bed and Breakfast is suitable to accommodate business customers, couples looking for romantic moments and families with children. The structure is completely baby-friendly. Many surprises for traveling children throughout the stay!
Breakfast with pasticciotti
Our breakfast is rich and with local products: you'll find every morning the famous pasticciotti (local pastries), tarts and freshly baked croissants warm out of the oven. But also biscuits, cereals, seasonal fruit, fruit juices and jams, the best Italian coffee and cappuccino made with the Nespresso coffee and milk machine. You can have breakfast in our colourful garden made with recycled materials, relax, read a book with your little children or play with them with a number of toys available for them.
Where we are
B&B Casa di Anita
Via Giuseppe Garibaldi, 73
73010 – Arnesano (Lecce)
IT, Italia
P.IVA: 04867570758
CIS: LE07500762000018386
Contact us
Book your room
Or use our Contact form: